What to do if your instep hurts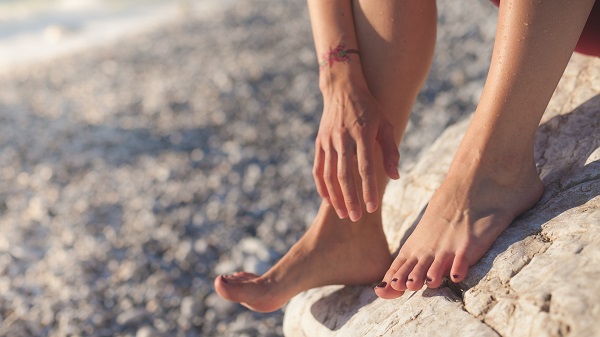 Does your instep hurt occasionally? There may be several causes, from the seemingly trivial to the more serious. You should never underestimate them. We discuss instep pain, its causes and treatment in our next article.

The foot as a complicated part of the body
Our foot consists of 26 bones and 33 joints connected with over 100 muscles, ligaments and nerves. At the same time, we spend several hours a day on our feet and walk around 8,000 to 10,000 steps. The maths is simple and tells us that the feet are one of the most complicated and most stressed parts of the body.
Just one more reason why you should look after your feet. This is discussed in our article 5 tips on how to keep your feet healthy.

Instep pain
In most cases, other symptoms also occur in conjunction with instep pain. The most common symptoms include increased sensitivity in the painful area, redness, increased temperature in the painful area, swelling and so on. Moreover, the pain may only occur during exertion and disappear while you rest. However, there may be several causes.

The causes of instep pain
The most common cause, as mentioned above, is overstressing the feet. You may also experience other complications related to this, such as flat feet, heel spurs, bunions or hammer toes.
Other causes include inappropriate footwear, for example shoes that are too tight and squash the feet and toes (high heels). Pregnancy and hormonal imbalances can also be a cause. During pregnancy, in as well as changes in hormonal balance, women must wrestle with weight gain and therefore greater strain on the feet.

Causes may also be due to injury or abnormal movement, such as sprains or other injuries. All of these can lead to fatigue fractures, tendonitis or other complications. Morton's neuroma can also be hiding in the background of instep pain.

And last but not least, instep pain may be related to diseases such as gout, diabetes or arthrosis.


What you can do if you have instep pain
If the pain is very uncomfortable or frequent or prolonged, make sure you see your doctor or podiatrist. In addition to the pain, resolve the cause to stop it recurring in the future is necessary. Apart from a general examination, your doctor may examine you with X-rays, ultrasound or magnetic resonance imaging to determine a suitable course of treatment.

However, if you need to treat the pain immediately, you can put ice on the damaged area if you experience inflammation (swelling, sprains, etc.) or take some anti-inflammatory drugs (ibuprofen, etc.). If your insoles mainly hurt from being overstressed, we recommend that you take a moment to put your feet up and rest them. Also, try to shower your feet alternately with cold and warm water, which can provide immediate relief.

We also recommend Foot Alignment Socks to help you relax your legs, stretch your muscles and improve blood circulation. You will feel immediate relief.

Nor should you forget about prevention, even if nothing hurts at the moment. As part of a prevention plan, we recommend combining the above-mentioned hints and tips. You can also include visits to a physiotherapist, who can prescribe you various preventive and stretching exercises.