Foot Alignment Socks and reviews – What our customers say about them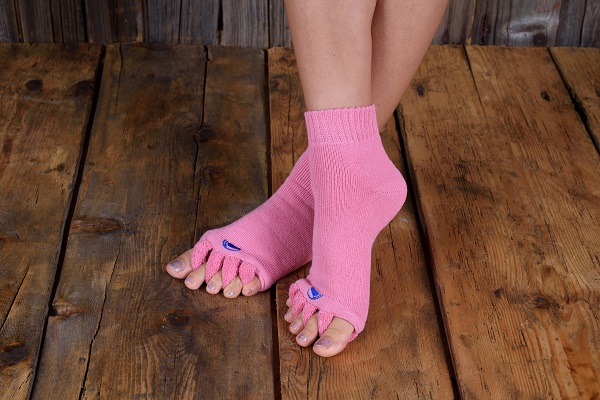 "I diligently wear them every day and they really work. A visible improvement. Thank you very much. A great investment in my health."
Iveta P.

"They work, my bunions and shins have stopped aching."
Lenka L.

"I've had them since March and they are great, they really straightened my bunion. I couldn't stand the pain while I was wearing shoes, and after two months, it got a lot better and now it's stopped. It also helps my heel spur. I highly recommend them to everyone, but the only drawback is that they are pretty expensive."
Hana G.
"I'm happy with them. I've had them for about a year, and my toes are nice and straight. I started getting hammertoes, so I wanted to sort it out before it got too bad. It's a great relief when my foot arch hurts and my legs are tired after some stress. I'm happy and I don't regret the money. The only thing I'd like to see is a slip-over pocket for the toes, like you have with gloves, but they'd be more like mittens. It takes a while for the blood to flow into the toes and I feel like my toes are freezing off."
Gabriela M.

"I told myself that they wouldn't help, but I bought a pair just to try them out, and I have to say that there's something about them. So far, I haven't been to the doctor to talk about why I get cramps in my feet, but when I put the socks on, it's a great relief. It's different to connectors. I wouldn't dare to sleep with them, because even though I followed the instructions on how to wear them, I don't have enough space between my toes to stop them from getting squashed together if I wear them for a long time. But an hour with them on is enough."
Kateřina

"I've had the socks for about 14 days, and they work! At the moment, I use them for a couple of hours in the evening and when I drift off (I usually take them off my feet at night). They help me. I don't exactly know what they do, but it's nice to put them on and the pain really stops."
J.E.
"I have a pair and they help with the callouses I have between my toes, which were really painful. Two nights with the socks and bliss."
Zdeňka P.

"These socks are magical!!! I've been using them since Christmas. My granddaughter gave them to me, and they've helped me a lot. Wonderful!"
Jarka B.

"They're perfect! A few months of foot pain and after repeated use I felt great relief.
My feet were perfectly relaxed at night even after standing through the whole day!! I'm not letting them go!"
Lucie D.

"I wear the socks at night because I have bunions and I can give my feet a rest."
Hana K.

"Super socks! I didn't believe it, but now I'm over the moon!!! Thanks!"
Wendy K.

"I have a pair, and they're great and my feet don't ache, the bunion is getting better..."
Eva O.

"The socks are great. I've been wearing them for a week in the evenings, and the instep, which hurt me quite a lot before all the time, no longer aches … I am glad I bought them..."
Regina V.

"I bought them, and the price was steep, but it was worth it, they're great. Thank you very much."
Magdaléna M.H.
"I'm very satisfied and I can only recommend them! With regular wear they really work, so I don't think the price is too much at all."
Iveta Š. (
"I got them last Christmas. I wear them at night and in the morning. I'm really happy with them."
Romana Ř.E.

"I've had them for a year now and my toes aren't cold, because they're separated and have good circulation. When I pull them off in the morning, it's as though my legs have changed. I mainly use them because of my big toe."
Jana M.

"I have these too, they're cool, like new life is pouring into my feet and my feet are getting younger. It's not some advertising poppycock, but the truth, why lie?"
Eva C.

"Try them and see! I had pain in my feet and they REALLY work!
Especially after hammer toe surgery."
Marcela F.
"The socks I bought are really helpful and are made of comfortable material."
Monika K.
"I have a pair and I'm very satisfied. Almost every night I pull them on in front of the TV, legs on the stool and chill.
I bought three at a discount. They're great for bunions."
Zdenka V.
"Just as you write, I completely agree – foot relief."
Bohuslava N.
"I'm a nurse with 30 years of experience and the socks always bring me immense comfort after a shift.
It's addictive ... without the socks, it wouldn't be the same. My legs have a nice rest."
Dagmar C.
"They really helped my mum. She no longer has problems, even when she occasionally wears heels.
Her legs used to ache right away and now she can wear them for half a day without any problems. Thumbs up from us."
Blanka M.
"We got them for my son (11) for bunions and incorrect walking, for me for aching legs,
toe cramps and swelling), and for my younger son (8), whose little toes are very squashed together. They're great."
Kristýna S.
"They're great for me. I can wear them for several hours, and the hammer toe on my left leg is starting to straighten out.
The investment was well worth it. It's a nice way to relax after work or a long walk."
Eva L.
"I'm still really pleased with them after several months."
Soňa O.

More reviews (in Czech language)