PaedDr. Vlaďka Botlíková, CSc.: How can we make our feet healthier and relieve them of pain and problems?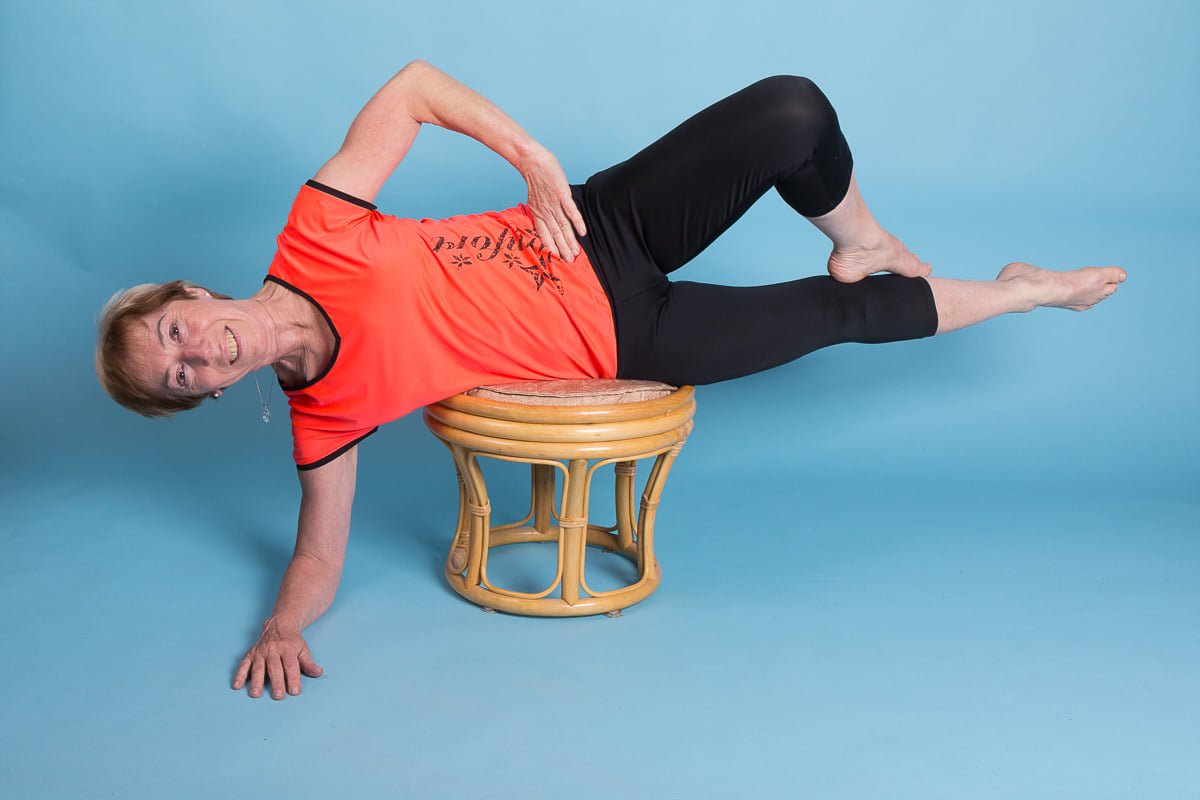 This is the second part of our interview with Vlaďka Botlíková, who works at the Czech Technical University in Prague, leads various exercises, creates her own online courses and seminars and writes a healthy lifestyle blog. In the first part, you can read about her as well as about general foot care, deformities, heeled or barefoot shoes. Now we bring you her insights based on her personal experience with Foot Alignment Socks. There are also some interesting tips on caring for your feet at the end of the article.

You had the opportunity to try the Foot Alignment Socks. What is your personal experience? Would you recommend them?
I hadn't had any personal experience with the socks before, I'd just heard about them from various sources. Overall, they were mostly complimentary comments. This got me quite interested in seeing what my experience would be. I tried them at different times of the day, and they probably worked best in the early evening, when I'd come back from running errands or going for a walk, for example. So, after taking off my shoes and putting on the socks, my toes were nice and relaxed. Sometimes just half an hour of wearing them was enough to recognize a difference. I'd recommend using the socks. However, try them out for yourself, to see how they might help you.


In your opinion, could they relieve pain even in the case of deformities?
Personally, I don't suffer from deformities or foot problems, but I feel that these socks could relieve excessive strain. They're good after long walks, running around all day, coming back with a heavy bag of shopping, etc. They will definitely be of use for feet with a flat arch or with a bunion (hallux).
These socks could be an excellent way to "prepare" for a remediation process, where the insteps and soles are gently loosened while wearing them. Moreover, the space between each toe is also increased. What's more, the soft separators only apply gentle pressure to stretch the toes, nothing that's exerting.

Do you think they could also be used to treat complications in foot health or rather as a part of prevention in foot care?
I imagine that these socks would be great as a way to prevent toe deformities due to wearing inappropriate footwear, such as pointed toe shoes or any other shoes where the space for the toes and instep is too narrow. What's more, they can certainly be used as a supportive option when treating deformities, too. However, the main part of any treatment is to actively "work" with the feet and legs, i.e., the next step is of course exercise! Another good thing is that you can make great use of that looseness and space right after taking the socks off, as this means the feet and toes are well prepared for the next phase - exercising, which is much easier in this state.
The cornerstone when treating and correcting leg and foot problems is thus targeted and well-chosen special exercises, for instance from my specially prepared online course Exercises for the Feet. Foot Alignment socks are an excellent "precursor" to the whole treatment.


In your opinion, when can you feel the first improvements when wearing Foot Alignment socks?
Personally, I noticed the first interesting sensations associated with a little more freedom after a few days. When I asked my extended family to test the socks, they tried wearing them overnight. They said the socks didn't even cause discomfort that would wake them up. I too experienced this.

When do you think there is little point in wearing the socks?
It's definitely not a good idea to wear the socks with shoes on, even if your feet and the socks do fit. The whole point of these socks is to give the feet and the toes, in particular, enough room, which wouldn't be the case in shoes.
What's more, it's not particularly pleasant to walk around in the socks after coming back from work, i.e., using them instead of slippers, as they are quite constricting from below. The pressure on the pads under the toes stimulates the toes and the foot from underneath in a different way than would be optimal when walking. These socks are really best for when you're relaxing and don't have to go anywhere, say, watching TV or reading in your favourite "comfy" chair. You're sitting down with the socks on... and your toes can enjoy wiggling and all sorts of other movement because there's nothing to restrict your feet.

What are you doing to motivate people to change their attitude to foot health?
For many years I have been using my more than 30 years of knowledge and experience in exercising in my live classes: Healthy Back. During these lessons, I always offer my clients a comprehensive approach, where any and every exercise is combined with a good "anchor" on the mat or on the ground, all via the feet.
Here, a specific example is always the best. For instance, when they can't do some of the balance exercises - and they don't have to be difficult. Simply standing on one leg... When people find out for themselves that their own legs can't support them and can't carry them, they become more aware that their legs are essential to improving their stability! And that they need them to be healthy and in good working order. I also include minor leg exercises in my regular classes.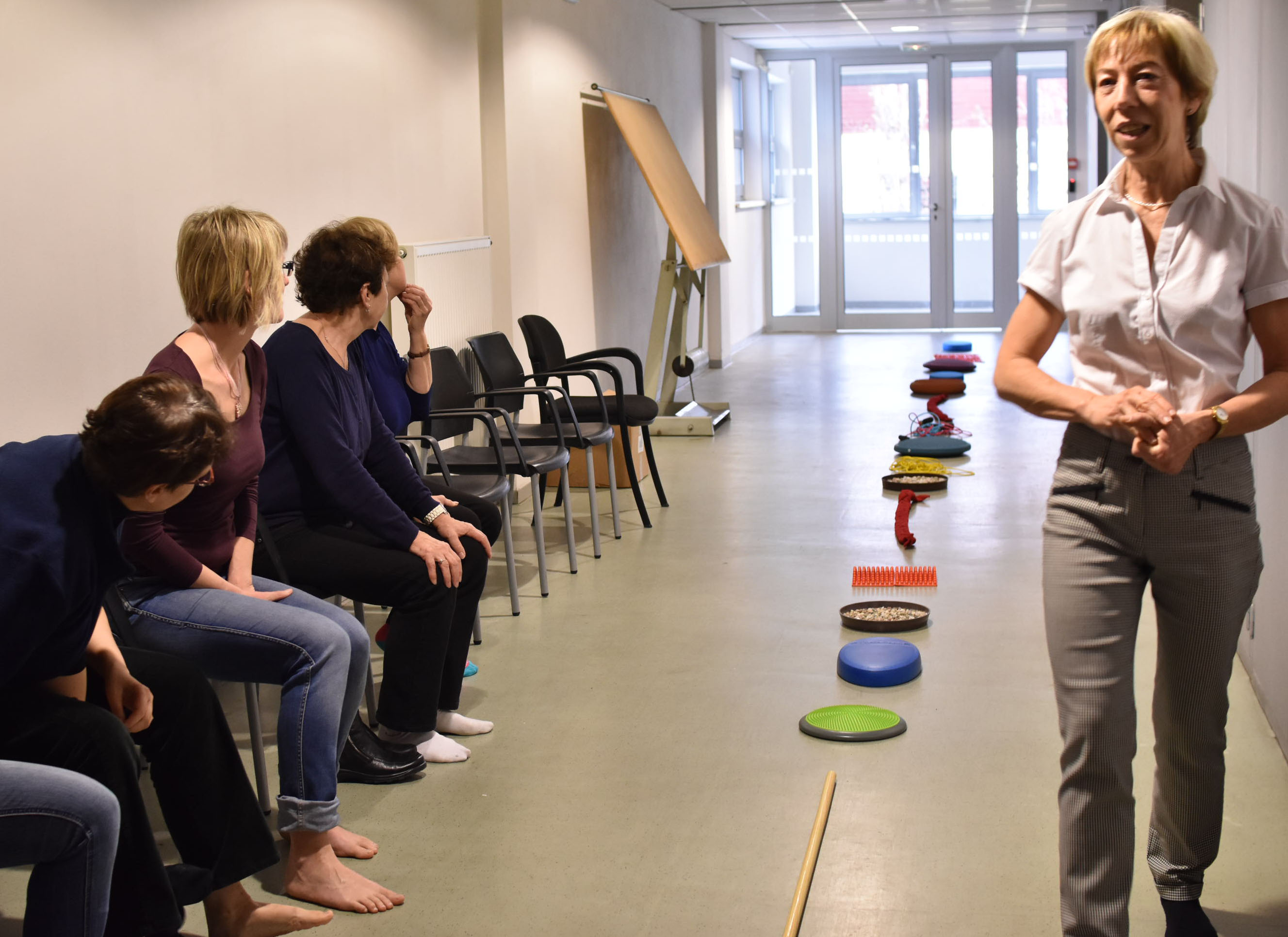 If, however, a client is interested in the topic of legs, they can learn much more about feet and legs in special all-day seminars: Healthy Feet I (and also Healthy Feet II). Here, in addition to tried and tested exercises, they will also learn to help their lower limbs with Vitalizing Self-Massage, which reliably improves them.
Or simply by offering my online courses. I have one for adults: Exercises for Feet, which focuses on correcting common problems such as flat feet, bunions, hammer toes, heel spurs and high insteps. I also offer a special course tailored for smaller children (and their parents): Exercises for Baby Feet. This is aimed at treating and correcting minor or major problems with the feet and legs (bunions, knocked-knees, flat feet, etc.) or poor posture.

What do you think about walking barefoot?
Barefoot walking is great! It is especially good for improving your perception of the surface, thanks to all the receptors on the bottom of the feet. These are perfect for reporting exactly what is underfoot, be that the the slope, firmness, hardness and many other properties. You can never experience that in shoes, not any shoes! Personally, I often go barefoot in the summer, not only in the meadows, but also in the mountains.
For many years now I've been writing a blog about my experiences, not only about walking barefoot, but also my experience from wearing barefoot shoes and many other topics related to healthy, functional and graceful and efficient movement. It has more than 60 articles on various topics of interest: massaging and toughening the feet, foot aids, foot exercises, full body exercises, walking, cycling and other sports suitable for improving your overall health, not only your feet, sports and movement for seniors, foot exercises for children, children's shoes, and even interviews with celebrities.