Long-distance runner Tereza Hrochová: I found wearing Foot-alignment Socks at night worked best for me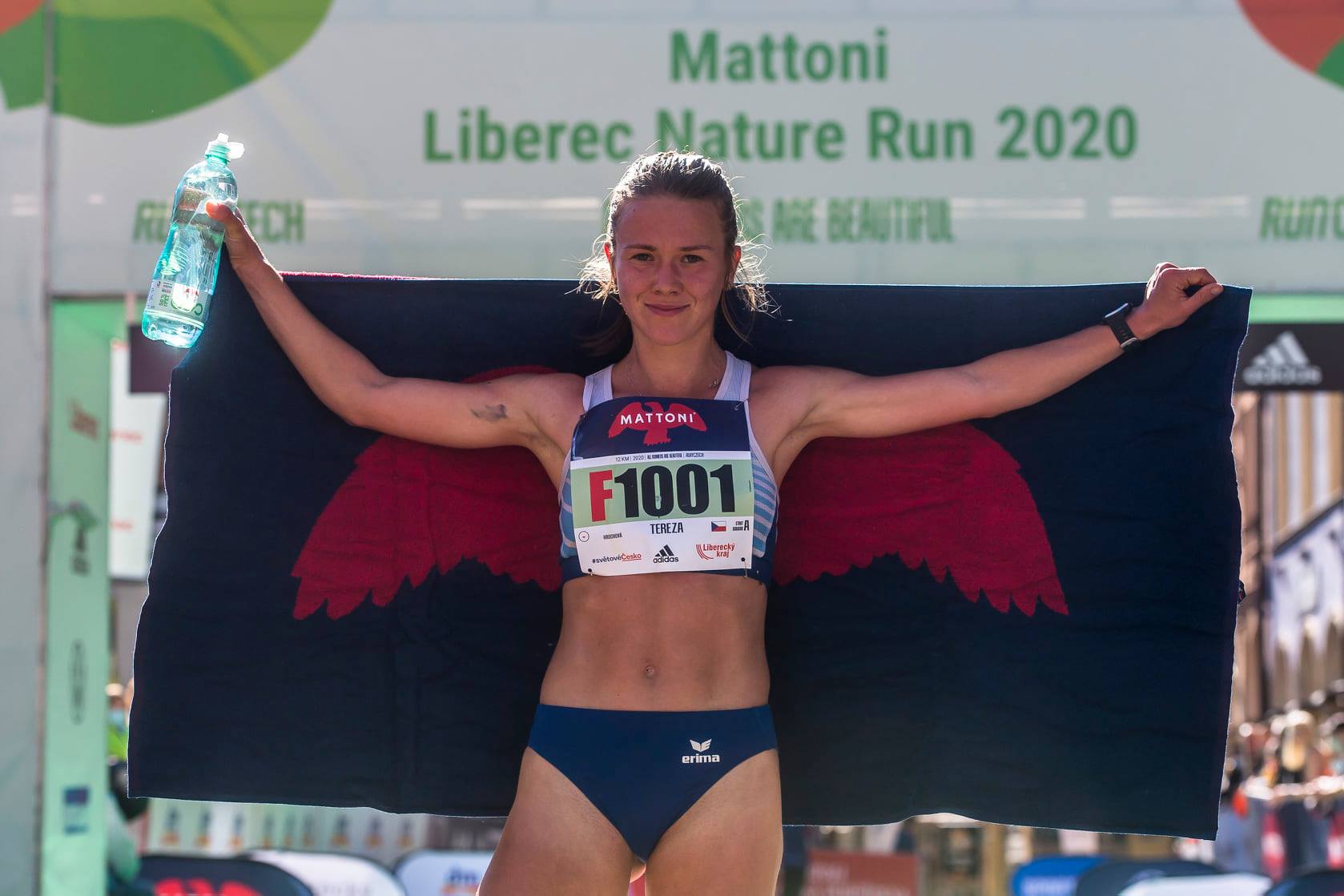 Tereza Hrochová is a successful Czech runner. You will most likely know her for taking part in the marathon at the Tokyo Olympics, where, with a time of 02:29:06, she had the fastest ever Czech marathon debut. She runs up to 200 km a week, so she has to give her feet the due care they deserve. What are her ambitions for running, what other achievements does she have under her belt and what has she got to say about Foot Alignment Socks?

Which running disciplines are you currently doing?
I always try to keep the season as varied as possible, so I run road, hills and track. It might not be seen as a standard approach, but I like the variety. Each discipline gives you something, but it's not always easy to combine them – especially with regards to dates, so that the main sports events don't overlap.

What are some of your greatest achievements?
Being objective, I'd probably say my biggest success was taking part in the Olympics, where I competed in the marathon. However, for me personally, a far bigger success was the nomination race, which was also my first marathon. The time I ran in this race is the fastest ever marathon debut in the Czech Republic.
Otherwise, I have taken part in a number of international events such as the European Championships, World Championships, European Cup, World Cup and the Universiade.

When did you first take up running?
I started athletics at the age of 14 in Česká Lípa. I trained until the end of secondary school. I ran the 800 m to the 3000 m, but my main discipline was the 1500 m. Before that I did various sports such as orienteering, skiing, tennis and horseback riding.

How did you continue after leaving for university?
After I started studying at university, I started training with AK ŠKODA Plzeň. It was there that I trained with Vladi Bartůňek, and we gradually started to extend the distances. Last year we got to the marathon - I don't think we'll go any further.

Are you still an amateur "hobby" runner or have you gone professional?
One third professional, two thirds amateur. I'm new to the centre, but I'm only part-time. Otherwise, I am still studying and trying to do some casual work.

What are you studying?
At the moment I'm studying Public Administration at the University of West Bohemia (Faculty of Law), where I successfully completed my law studies in 2020.

Is it possible to train and push yourself fully this way?
It's not ideal, as the exam period often overlaps with the main event season. That's when it takes its toll on the results, both athletic and academic.

How many kilometres do you run on average per month?
It varies, but I usually count it weekly, not monthly. So, the number depends on various factors. One of the most important is where the training takes place and when. However, in general, I can say that it ranges from 100 to 200 km per week, plus other sports like cycling, cross-country skiing or swimming.

Can you remember any funny experiences you had while running?
I've got loads of funny experiences from training camp, but I'm not sure they'd be taken the right way. So, if you want funny experiences, I'd recommend going to a training camp so you can experience them for yourself (smile).

What are your plans for this year's season?
The priority for the 2022 season should be road races, especially marathons. Otherwise, I hope that we will also be able to squeeze in some hill climbing events into the schedule, as I really like them. On the track, I will definitely compete in the extra league and probably also in the Czech Championship.

Can you tell us about your plans and ambitions for the future?
At the moment I've decided to stay with athletics for a while. We'll see how long it lasts. Unfortunately, if you want to pursue sports to the fullest, so that there's a point to it, it's almost impossible to fully integrate it into the profession I studied and which I would like to pursue. So, for now, my ambitions only concern the world of running. My greatest ambition is to keep healthy and to be able to push my performance across all the disciplines I am involved in.

What about you and Foot Alignment Socks? How often do you wear them?
I wear Foot Alignment Socks, even though I'm a bit of a slacker and there are always times when I wear them regularly and then stop wearing them for a while. I find wearing them at night works best for me. As soon as I get uncomfortable, I take them off while I sleep.

Would you recommend them?
Definitely, it's really a great thing for regenerating the feet and it also improved my toes' mobility. Most runners probably have various foot imbalances from running shoes, and these socks are great for working on that and preventing injuries.

What do you think their biggest benefit is?
They help regenerate the feet and prevent injuries. But they will also help the mobility of the toes, which then relaxes the whole arch and the instep.