How Foot Alignment Socks have helped me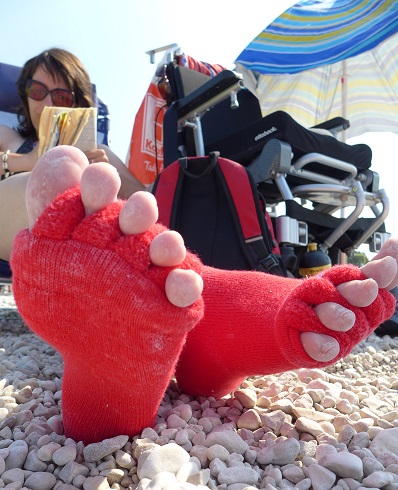 "I'm a sceptic at heart, so I didn't believe that a sock could help. But fate decided otherwise.
Not long ago, I was a healthy girl who walked normally. Then came an operation with postoperative complications, and I found myself in a wheelchair. But even that wasn't definite. I don't remember the first two months after the surgery. The doctors had to put me into an induced coma. In that "short" time, my muscles completely atrophied. To give you an idea, after waking up, I could only move my head,. But despite my medical prognosis, my family didn't give up.
My sister-in-law, who is a trained physiotherapist, instructed everyone on how to exercise me. Nor did they forget the feet, as they believed I would still need them. My feet were completely straight, not curled up or down, and the toes tended to twist (I only know this from what I've been told).
Right from the start, they gave me Foot Alignment Socks to keep my toes straight and stretched. Over time and thanks to physiotherapy, I started to move my limbs. The ankles became flexible. The blood circulation improved in my cold feet.
Today, I am in a wheelchair, but I can stand with firm support and walk a few metres with a walker. I strongly believe that Foot Alignment Socks helped with this. After all, it's impossible to stand on twisted feet and toes. I keep putting my socks on all the time, there's always room to improve, and I still believe I'll need my feet more and more, so I relax them safe in the knowledge that I'm doing something damn good for myself.
So a huge thank you from me to Foot Alignment Socks!"
Jana Bendová
A brain tumour changed her life from the ground up
Jana lived a completely normal life until she was diagnosed with a benign tumour on the auditory nerve. Unfortunately, the operation failed, there was bleeding into the brainstem, and the chances of survival were minimal. Jana, however, did not give up, and thanks to the support of the entire family she fought back and made enormous advances, which amazed the doctors. However, she remained dependent on a wheelchair with many disorders caused by brain damage. Her two children remain her driving force, but unfortunately her husband could not manage and parted with her. Nevertheless, Jana does not give up. At the end of the summer, she moved into an obstacle-free flat to be as self-sufficient as possible. Every year she goes to physiotherapy vacations to keep her body fit.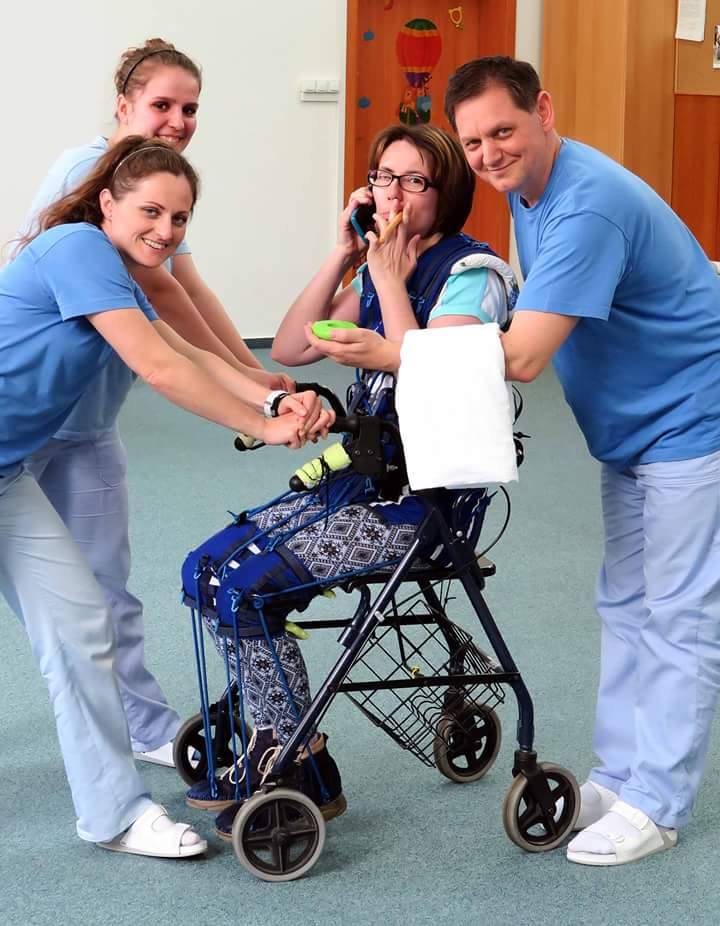 Stand on your own feet
If you are interested in her whole story, you can follow Jana's pages at Helping Jana Back to Life. If you would like to support Jana, then write an encouraging message to her or make a donation to her transparent account: 2800823004/2010 so that she can continue her intensive exercises and physiotherapy. It would make her very happy. Pro-nožky.cz also helps. Every year, they contribute to her stay in Adele or Klimkovice, where she makes incredible progress.
In terms of housing, Jana is already standing on her own metaphorical feet, but it's still her big dream to stand on her real feet. Can we help her?