Foot Alignment Socks® – How a migrant from Czechoslovakia lived the American dream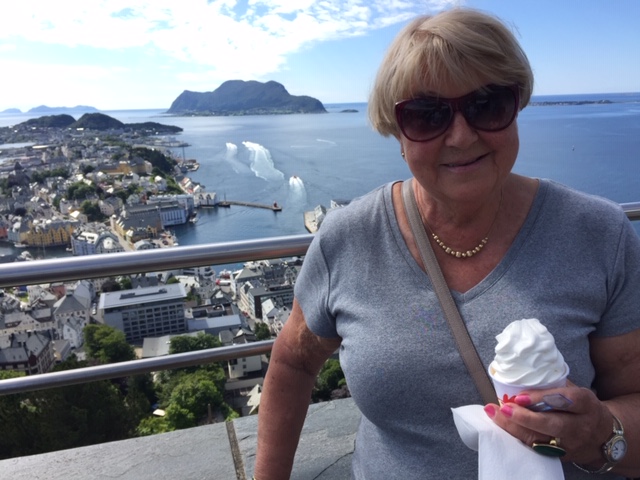 Many of you already wear Foot Alignment Socks® regularly, or you are at least considering it. But which one of you knows that a native from the former Czechoslovakia—Eva Nemčík-Jelínek—was behind their creation? In 1968, after Czechoslovakia was occupied by Soviet troops, she left her homeland with her husband and two children and eventually settled in the US. Foot Alignment Socks were created much later.

How Eva got to the US
After 1968, Eva and her family first travelled to what was then West Germany, where the family stayed for a few months. They then moved to Canada, where the immigration policy was a little more welcoming. But even there, they did not set down roots. Finally, thanks to a job offer to her husband, they moved to Ohio, where they settled down. But fate soon struck—in 1973, her husband died in a car accident. Despite this, the tenacious Eva stayed in the US with her children.

An innocent idea at first
Eva is a chemist and worked at General Electric for 26 years. Meanwhile, she married her second husband, Karel Jelínek. She was also a passionate tennis player. When she retired, she became active in more sports. Combined with advancing age, this made it especially tough on her feet. She didn't want to let it develop into dealing with foot deformities, so she started looking for a way to relieve her feet from pain, fatigue and swelling.

The great idea came from Eva's yoga instructor, who advised her to stretch her feet and relax by putting her fingers between her toes and holding them there for a minute or two.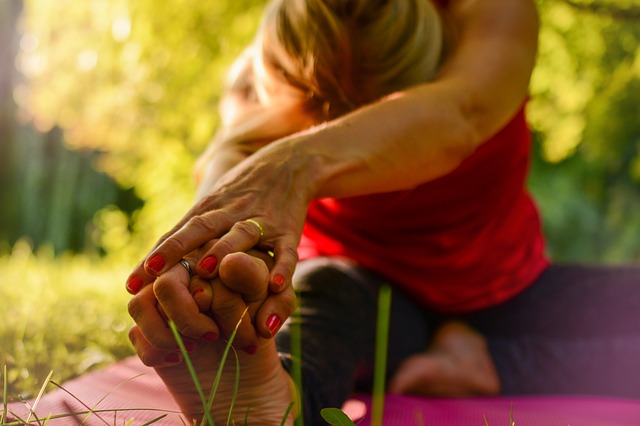 But Eva asked herself, who has the time today to sit for a few minutes with their fingers between their toes? Since there were no such orthopaedic aids or the available types weren't "right", she began to look for a different solution. Eva started experimenting with socks. Gradually she and Karel created several prototypes, both of which they tried on themselves and then later tested on their friends. That's when Foot Alignment Socks were born. The results were unexpectedly good, even after wearing them just a few times. This is supported by our customer's reviews. Because Eva was well aware that many people around her were suffering from foot pain, she decided that she could help others in this way.

From a home aid to a successful business
Eva first needed to find a manufacturer who could mass produce Foot Alignment Socks. However, she couldn't find anyone in the US. In one of her interviews, she said: "Finding a US producer was almost impossible. They liked the idea of Foot Alignment Socks, but they didn't believe in it. An old lady's good idea doesn't mean it's going to work."

In the end, she managed to find a small manufacturer outside the US who said he could make the socks, but the minimum number would be 1,000. They hesitated for a while, but eventually Eva and Karel decided on it. But they discovered that they had slightly misunderstood each other: the manufacturer hadn't meant 1,000 pairs, but 1,000 dozen, which is 12,000 pairs. She and her husband took a second mortgage on the house and risked it.

In an incredible three months, the Foot Alignment Socks had sold out. Thus, a successful era began that continues to this day. Eva immediately patented her idea, and today, The Original Foot Alignment Socks® and Adjustační ponožky® are trademarks.

"We can do anything if we are tenacious and believe that what we do is right." Eva Nemčík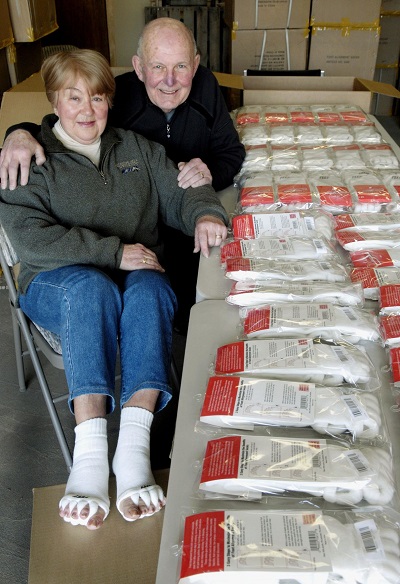 Successful expansion into Europe
In 2012, just a few years after they were launched, The Original foot Alignment Socks reached the Czech Republic and the whole of Europe. Our Pro-nožky team has met Eva and Karel personally and has become their exclusive supplier for all of Europe. As well as in our e-shop, you can find them at our partner stores.

However, as is often the case, great things are copied, and unfortunately there are now fakes of the Original Foot Alignment Socks on the market. At first glance they may look very similar, but the dividers for these fakes do not meet the prescribed dimensions and therapeutic procedures, and therefore the socks do not achieve the desired effect! Always make sure that you only buy The Original Foot Alignment Socks, i.e. with the foot logo embroidered on the instep.

What's in store right now?
For some time now, we have not been able to cover the demand for the basic sizes (S, M, L). There are more and more inquiries about XL socks and socks with a comfort top, and there is a considerable demand for children's sizes. It's no surprise that not only adults but also children suffer from various foot deformities. Children's socks are now in the preparatory stage, but they need to be thoroughly tested before being released onto the market. We are confident it won't be long before we can soon offer Foot Alignment Socks for your children's feet.

What about you? Do you have your Foot Alignment Socks? Choose in our e-shop. Not quite sure? Read more about their effects as well as our customer reviews.