7 hints and tips for caring for your feet at home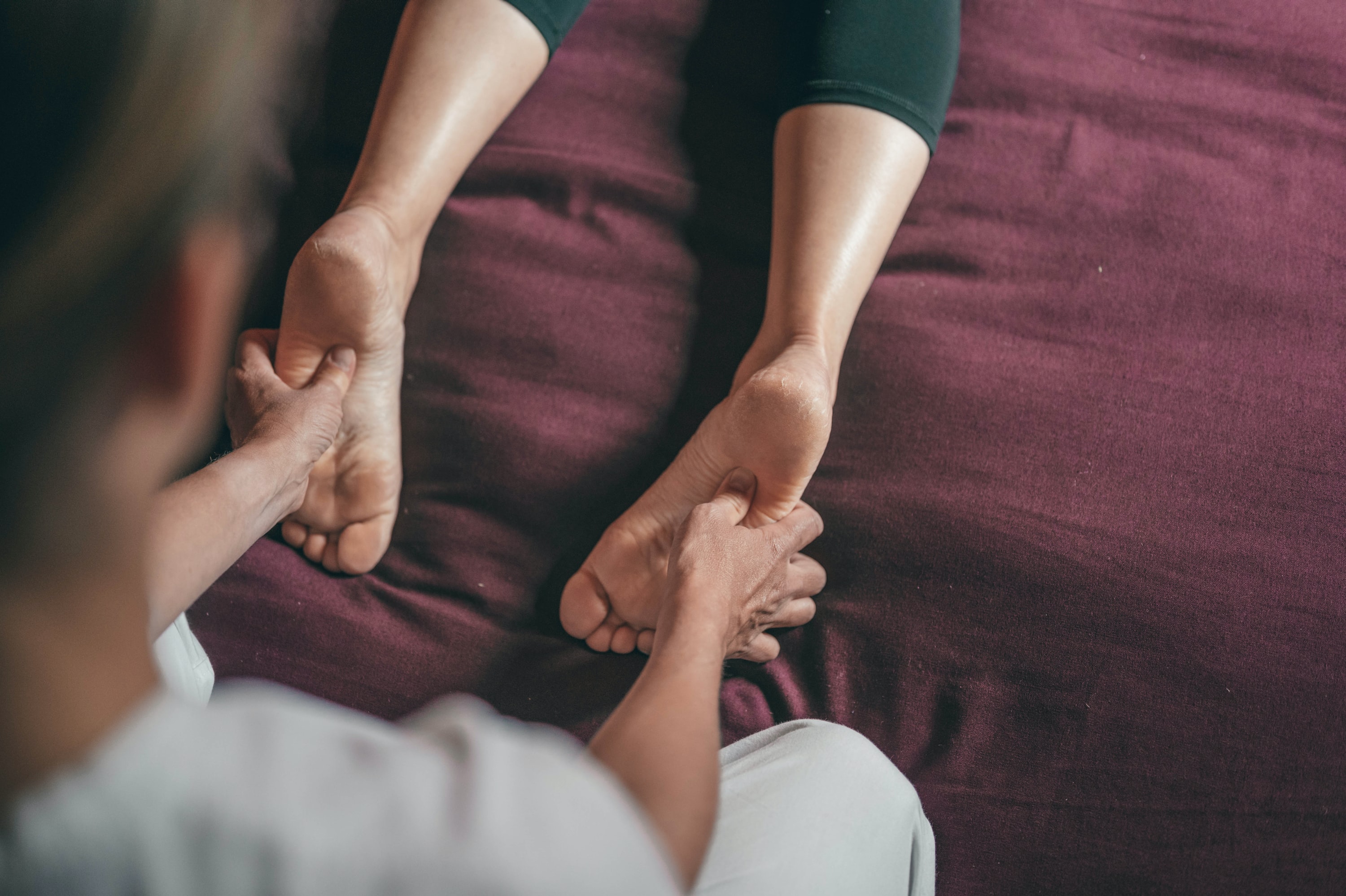 You only feel as good as your feet. Did you know that your vitality is based on the health of your feet? So, let's take a look at a few basic tips on how to keep your feet healthy in the comfort of your own home. Then you will always put your best foot forward.

1) Relax
Who would have expected taking care of your feet would be so "demanding"? But yes, if you are putting a strain on your legs, you need to give them enough rest. Naturally, both passively – putting your feet up - and actively - showering your feet alternately with cold and warm water or regular stretching and massage. But it's all good fun.

2) Keep your feet dry
When we're on the subject of showering, don't forget to dry them thoroughly. A humid environment is ideal for mould that can get on the skin around your toes and feet, but also directly into your nails. It is then very difficult to get rid of it. Therefore, it is better to prevent it in the first place.
The same goes when it comes to choosing suitable footwear. Wear shoes in which your feet can breathe. Or socks that don't make your feet sweat excessively. If you find your feet still sweat a lot, you can try using a deodorant designed specifically for feet. The right environment is the key to keeping your feet healthy and in proper working order.

3) Adequate hygiene
Wash your feet thoroughly with soap when showering or bathing. On the other hand, don't overdo it. So, be careful not to damage the natural protective layer of your feet by scrubbing too hard. Needless to say, give your feet a thorough drying. You can also moisturise your feet and take care of them with some of the creams or body lotions designed for that.

4) Take care of your nails
Do not let your nails grow too long and trim them regularly. Long nails attract the aforementioned moulds, they may also become ingrown and, in addition, they are quite uncomfortable in closed shoes, where they could squeeze on your toes.

5) Take care of your feet
If you have hardened skin on your heels and feet, remove it with a foot file or pumice stone. This prevents the skin from becoming horny and subsequently cracking. If that does happen, you will need help in the form of creams that can provide deep hydration and help fight cracks.

6) Be active
We don't want you to run marathons for us. But simply going for a short walk in the fresh air several times a week will benefit your entire body. While this is not a tip for at home, being shut inside for 24 hours a day is also not entirely healthy. Don't forget to choose suitable shoes. Wearing heels or flip-flops will probably do more harm than good. And why not try walking barefoot on uneven surfaces - such as stones, grass, sand and the like.

7) Wear foot alignment socks
Once you start wearing them you will be able to manage several of the aforementioned tips at once. It is easy to relax when wearing foot alignment socks and at the same time they are great for stretching your toes and leg muscles. They will help you to get the blood flowing, in much the same way a shower with alternating cold and warm water does. They are an ideal helper in preventing deformities and in keeping the feet healthy so that do not swell or hurt.
Do you have your foot alignment socks?